CARVER X
Designed with two jets and two batteries, the Carver X doubles the power of the Carver Twin.
This is the ideal option for riders above 90 kgs to reach planing.
(Click image to play video)
PACKAGE INCLUSIONS - NEW BOARD
1 CARVER X BOARD, 1 WIRELESS REMOTE WITH WRIST STRAP AND TRIGGER, 2 BATTERIES, 2 BATTERY CHARGERS, 1 REMOTE CHARGER, 1 FIN SET, 2 FOOTSTRAPS, 1 LEASH, 1 CARVER BAG, 1 TOOLING KIT, 1 HANDLE, 1 YEAR WARRANTY DIRECT FROM MANUFACTURER
PACKAGE INCLUSIONS - EX-DEMO BOARD (2018 MODEL)
1 CARVER X BOARD (2018 MODEL), 1 WIRELESS REMOTE WITH WRIST STRAP AND TRIGGER, 2 BATTERIES (2020 MODELS, NEW IN BOX), 1 BATTERY CHARGER, 1 REMOTE CHARGER, 1 FIN SET, 2 FOOTSTRAPS, 1 LEASH, 1 HANDLE, 6 MONTHS WARRANTY FROM WAVEZ
PRICING
| | | |
| --- | --- | --- |
| Model | RRP | Best Price* |
| 2021 Carver X New | $24,499 | $21,399 |
| 2018 Carver X ex-Demo, new battery | $24,499 | $19,999 |
* Pricing is indicative only, based on manufacturer RRP plus shipping converted to A$, duties and taxes. Prices are updated periodically, please contact us for a customised quotation based on today's exchange rate.

TECH SPECS
LENGTH 240 cm
WIDTH 70 cm
VOLUME 150 L
WEIGHT W/O BATT 23 kg
POWER 10,000 W
MAX SPEED Around 45 km/h with 75 kg rider
CHARGING TIME 2.5h

JETPACK UPDATE

The Carver X has a dual jet propulsion system allowing riders over 100 kg to reach full planing under pretty much any conditions.
This is the ideal go-to option for users over 85 kg wanting to experience the feeling of gliding over the water surface.
This board has 10 kW of power, meaning double the power of the standard Carver model.
SPEED AND BATTERY LIFE

Powered by two batteries, its battery life is 40 minutes when riding at mixed speeds.
These batteries are exactly the same as for any other Onean products, meaning you can also use your current batteries from the Carver Twin and Manta model.
SET YOUR POWER LIMIT WITH THE WIRELESS REMOTE CONTROLLER
You can choose amongst 5 different power levels and control the pressure settings, by easily selecting your favourite option.

The remote controller is also interchangeable with the Carver and Manta models.

This new model includes a new developed detachable trigger for an optimal pressure control.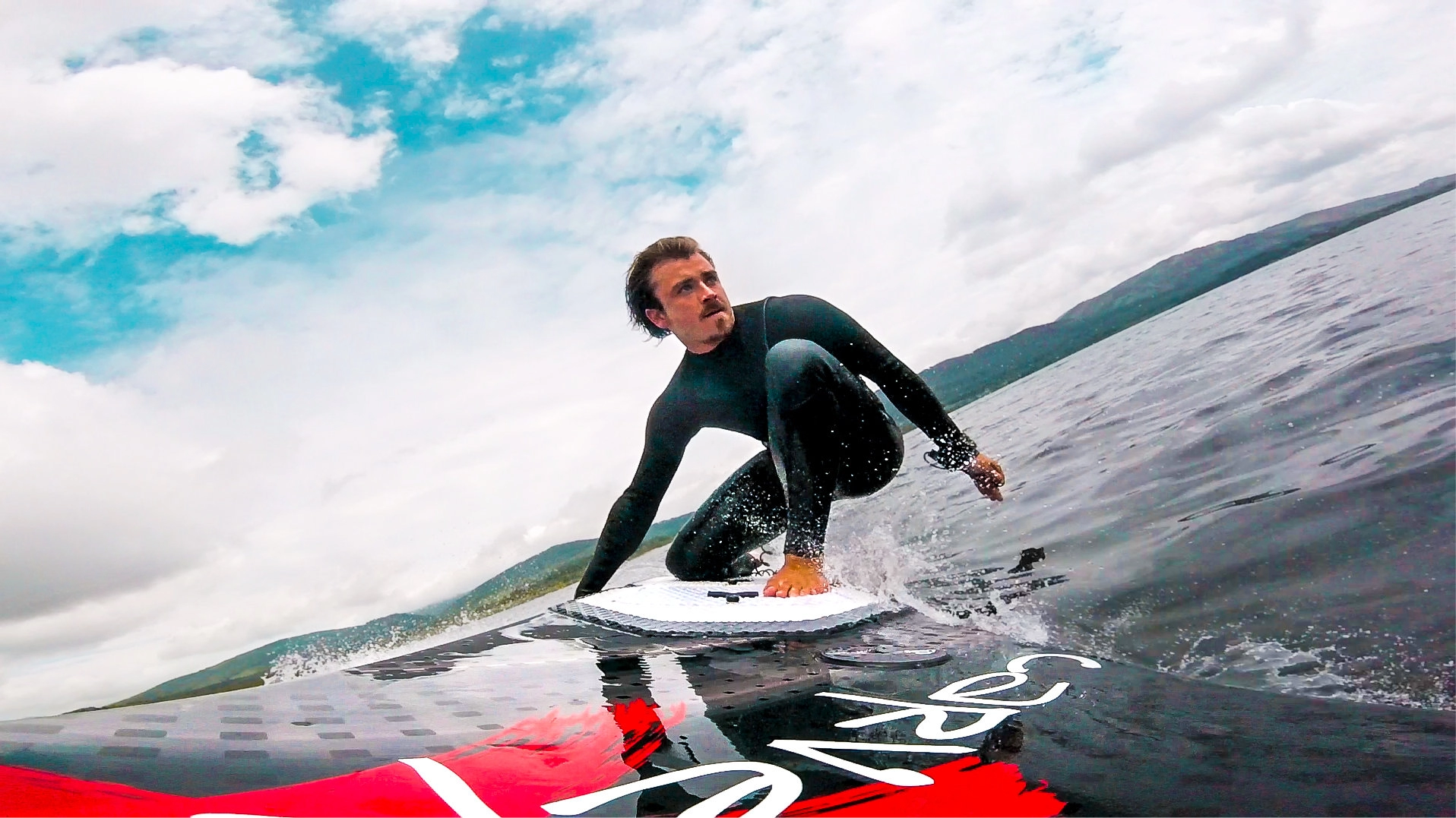 EXCLUSIVE DESIGN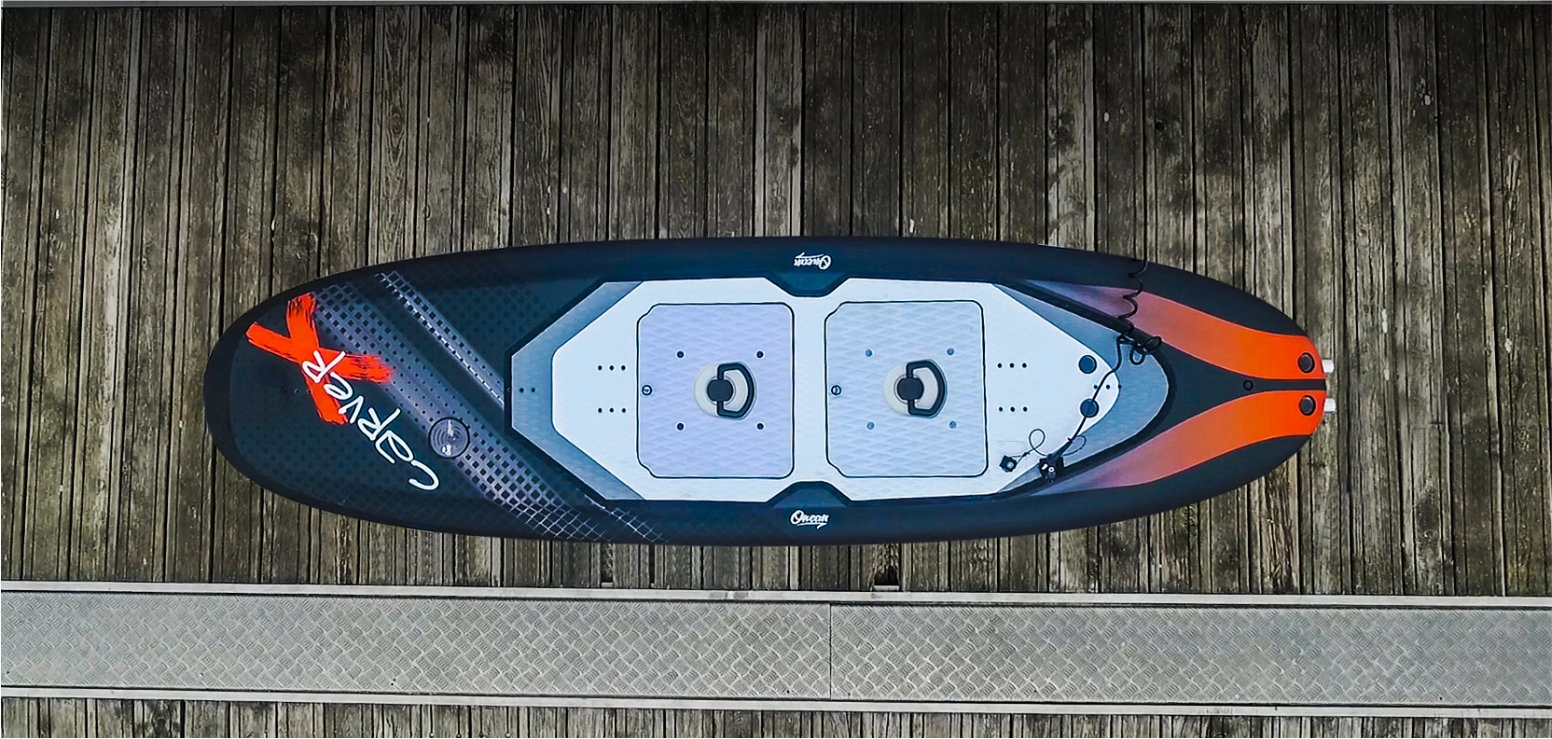 New graphics for a high-powered jetboard. Reinforced pad and new antenna design for an optimized connection with the wireless remote controller.
.

ONEAN ORIGINAL SPARE PARTS

Get the best accessories and spares for your Carver X designed by Onean.

Impellers, Stator/nozzle, handle, batteries, tooling kits…
.

NEED ONLY THE BOARD?
CARVER X ESSENTIAL

The Carver X board itself with two jetpacks. It doesn't include batteries, charger and any accessories.